Black & Yellow stripe African waistbeads
$

11.00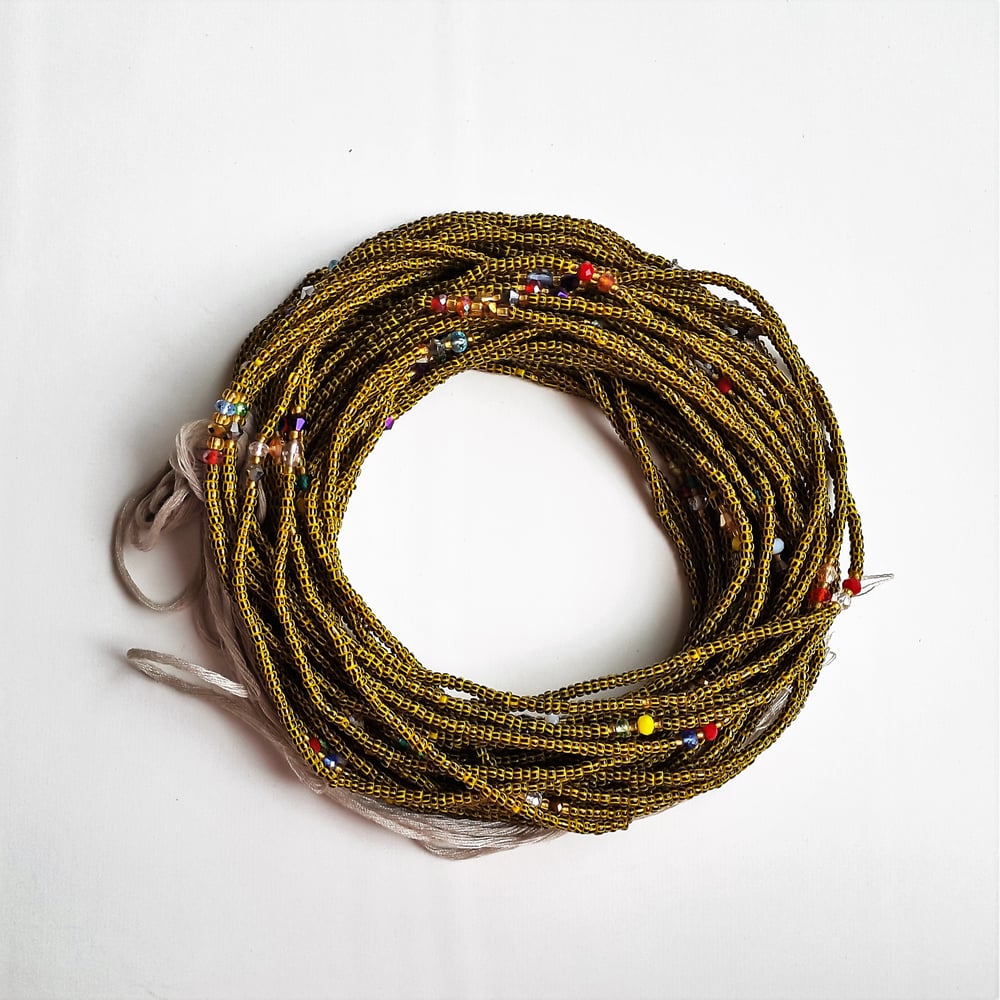 Our ready-to-wear waistbeads with a modern twist are strung the traditional way: on several cotton strings and can be terminated
-the traditional way for long term wear with a permanent knot (you will adjust it down yourself to your desired waist size). Instructions on how to will be included with your waistbeads.
or
-with screw caps (indicate your measurements on checkout and we will customize them for you).
Customers are responsible for knowing their own CORRECT waist size and making sure the size of the listing will fit you PRIOR to ordering. NO REFUNDS OR EXCHANGES FOR NOT DOING DUE DILEGENCE ON ORDERS ALREADY PROCESSED/SHIPPED
This listing is for ONE (1)strand of modern African waist beads and will wrap around most waists only once.
Photo shows several strands wrapped multiple times solely for photographic purposes.
*******************************************************************************************************
My first waist beads were given to me at birth as a gift of celebration of the birth of a female, protection, fertility from my grandmothers, as Ghanaian/African culture dictates. The miraculous transformation our bodies go through from puberty, pregnancy and birth? & menopause is reason why in ancient cultures, a strong awareness, appreciation of the womb area & the waist is important for women of all ages.
Traditionally, African waist beads are worn as private intimate adornments fitted low just above the hips but can be worn on the waist or as body jewelry. There is no wrong way to wear waist beads.
Our bodies go through so much as part of our duties to mother nature. And as such deserve to be celebrated regardless of culture, age or size. Whether you celebrate it personally or collectively, we join you to love the skin you are in.
All beads are sourced from Ghana.
BEAD SIZE//
16 beads per 1 inch (small)
LENGTH//
Can be adjusted for waists up to 52 inches.
Because waistbeads are custom sized and so personal, there are no returns/exchanges on waist bead purchases that have been shipped.
Customers are responsible for knowing their own CORRECT waist size and making sure the size of the listing will fit you PRIOR to ordering. NO REFUNDS OR EXCHANGES FOR NOT DOING DUE DILEGENCE ON ORDERS ALREADY PROCESSED/SHIPPED
Share